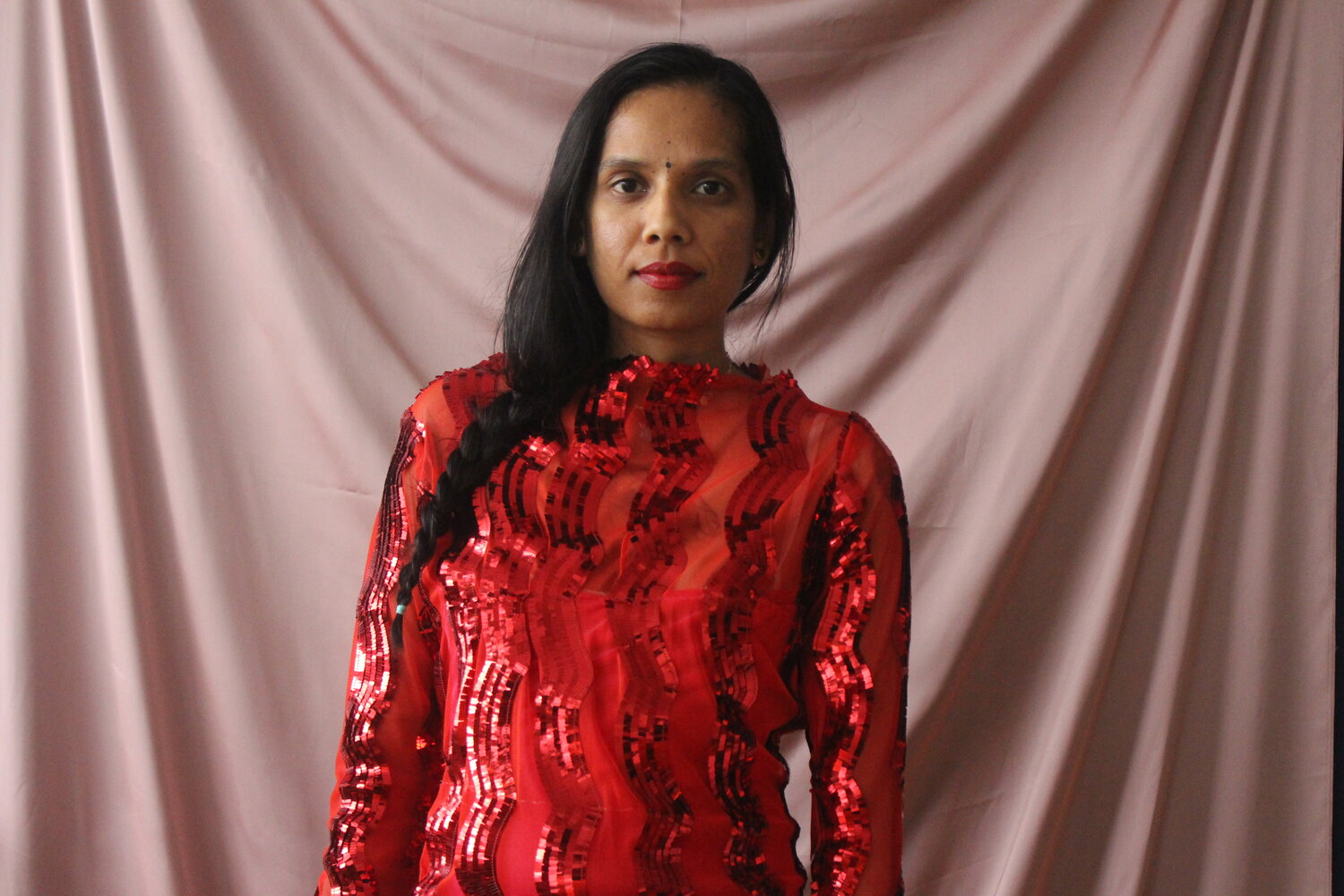 Joan's Bio
Joan Laxmie Rupram is a 5th generation "post" Indian Indentured Caribbean descendent of Guyana and Shakta Devi lineage holder. Joan occupies indigenous territory of the Mississaugas of the Credit, the Anishnabeg, the Haudenosaunee, the Chippewa, the Wendat Peoples and the Senecas on Treaty 13 known today as Toronto.
Their work interrogates the intersections of the personal is political and spiritual where Joan's praxis endeavors to enliven the Indigenous genesis of our Black/Brown Ancestral DNA.
Joan is Co-founder of Fresh Water Society; an Indigenous Spirit-Led collective for Diasporic Peoples of the Divine Feminine. Fresh Waters The Podcast is a ceremonial production by Fresh Water Society weaving stories for collective healing, liberation and our conscious connected community.
Joan runs their family business, JN Organichouse and their consulting practice coaching and mentoring emergent leaders. You can find their short stories in Protest Through Poetry Anthology at Protestthroughpoetry.com & Blooming Through Adversity: A Collection of Short Stories on Amazon.
2015 - How do you express self-love/care in the face of racism/anti-Blackness/anti-Indigeneity?
I have a toolbox of things I will use to take care of myself and make myself feel like a priority in general. I've incorporated self care into my daily life and daily routine. When incidents happen I use journaling to explore my feelings, thoughts, reactions and to reflect. I use journaling as a tool to express emotions that I normally would keep repressed and heavy intense emotions I would keep alive within my body. To show self love/ care I have been using my journals as self-therapy focusing on monitoring my thoughts and feelings and reactions that I have to particular situations. I will then dive into uncovering beliefs that are tied to these thoughts. When intense emotions take me over, I allow them to come over me and pass through. A strategy I use is to be with myself when I feel unpleasant feelings in my body, those are the times when I least want to be in my body so I practice allowing these feelings to surface and to be with myself as I go through this process. I will also monitor my thoughts particularly when I begin to feel annoyed and irritated with my emotional state. I created a morning routine that I always follow every morning which helps me feel and see that I am putting myself first as the first priority every morning. I listen to a lot of music, particular music that is part of my culture ( roots, reggae) but music in general has been therapeutic for me. Sometimes I will also draw and doodle depending on how much time I want to spend with myself and how moody I'm feeling. Self-care routine includes allowing one day for myself, where I only do things that are needed for my well-being, for example; facial, hair treatment, making time to clean up.
2023 - Reflectively, how do you feel about this response now? What has changed, what hasn't? ( in terms of how you view self-care as it pertains to your own wellness and generally in society?)
The tools I described here I still use. Journaling, morning routines, cultural music, art, making time for hygiene and personal care needs are all part of things I'll do to show myself care and love. As someone living with depression, anxiety and PTSD I've been learning about my mental health as part of my life's journey. My mental health needs have changed and as such, the way I learn about my evolving needs shifts and how to meet these needs and care for these needs has also shifted. In western countries, we always have to ask ourselves how we've internalized capitalism in our own lives. The way we conceptualize care in western countries has roots in institutionalization and professionalization, so yes, our concepts of care are commercialized. Even if we live in a western country, I believe the call to self love and self-care is a call to your Spirit, your Soul, your Intelligence, your Creativity, your Vitality, your Peace. If we become aware of the call and follow it with a heart of sincerity, then we're taken on a journey. Self love and self care has become about knowing who I am and accepting myself.
My relationship with self-love and self-care evolves and isn't static. Using an industrial lens, in my opinion, aims to make self love and self-care static and fixed. As I evolve, my relations with care and love evolves. As I listen to the call, I open myself to learning how to love and how to care, this is dynamic, and life is leading and teaching me. Self- reflexivity and discernment are technologies I use to gauge when liberatory practices are being extorted. In reflection, I am talking to myself. I'm always in a relationship with myself. The tools I described above are some ways I was reconnecting with myself.
At the time, I was still bumping along, trying new methods to find some sense of inner and outer harmony. I was still unlearning and shedding, making new choices and learning about my responses and resolve. At 23 years old, I had committed to learning how to care for myself and I put myself on different modalities to explore how I responded. I changed the way I ate for my mental health and I wanted to make more caring choices for myself. These were some of my initial desires that led me to self-care and self-love.
I became better at being with myself, learning what my specific needs are and creating boundaries for myself to meet my needs. I wasn't immersed in the community the same way I am now. As my needs became clearer to me, I started looking for specific spaces that can help me meet those needs. In 2020, I started looking for community spaces that were specific to my emerging needs to be in cultural and spiritual diasporic spaces. At the time, I wanted less institutional and less western cultural hegemony. I wanted to be with Black Brown Indigenous people specifically.
Some of the community spaces became bonafide while others dissolved. In both regards, I learned to care for myself with community and I was practicing what I call in my life, community care. My self care and self love has deeper roots in my cultural heritage, Ancestors and Spirituality. Journaling is a tool I use to connect with my emerging needs which always reveals to me the direction of my choices. I sought out cultural community spaces that were specific to my emerging needs to reconnect with my lineage and the practices of my people. In an effort to self love and self-care I found a community in Ecuador that rekindled my affinity to be in ceremony; a practice neglected after migration to Canada from Guyana. Here in this community, I found a space for my spiritual needs rooted in respect for nature, ceremony and support for the local indigenous people. I met people creating their own community based on mutual care, love and respect. This model inspires a lot of my analysis and visions for community care.
I found communities locally rooted in honoring Devi and reclaimed my tantric heritage in the ancient goddess traditions of my Ancestors. I wanted to farm locally with Black/Brown Indigenous people and found a local grass-root organization to grow food together and feed food deserts. I found diasporic communities in the arts preserving Indian Cultural Heritage and challenging caste oppression, cultural appropriation and demonization of the subaltern. I found a community in New York that satisfies my connection with the arts and transformative healing justice. Together we led workshops on Indigenizing Pleasure, created communal soundscapes and told our stories. I rooted myself in a community-led masjid based in Chicago and cultivated my devotion to Allah. My muslim community embraced me and my multiplex of identities where our shared devotion strengthened us all together.
My self-care and self love is a dynamic and enriching connection with my True Nature. I've strung a network of communities around me that supports my spiritual needs and strengthens my tenacity. I spend time practicing rituals like making fire and communing with water. I'm out in nature sitting with the trees and connecting with the sun, the clouds, the grass, the soil, the flowers, the insects, the wind. My self-care has me in nature a lot connecting with the Presence of the elements and the radiance of nature's ecosystem. This is also another form of community I'm in relationship with. My concept of care evolved by being in Nature. I practice Being with, In harmony. Nature helps me Be with myself so I can learn who I am and what my needs are.
Follow Joan on social media